$18.00
NZD
Category: New Arrivals | Series: Awesome Friendly Kid
Scare yourself silly with Rowley Jefferson's Awesome Friendly Spooky Stories by Jeff Kinney, the #1 international bestselling author of Diary of a Wimpy Kid! Grab a flashlight, crawl under the covers, and dive into the twisted, unexpectedly hilarious world of Rowley Jefferson's imagination. You'll meet zombies, vampires, ghosts, and much more in these comically terrifying tales. Rowley's spooky stories might leave you laughing, but beware-you could end up sleeping with the lights on! And don't miss Rowley Jefferson's first two awesome friendly books, the instant #1 bestsellers Diary of an Awesome Friendly Kid- Rowley Jefferson's Journal and Rowley Jefferson's Awesome Friendly Adventure! ...Show more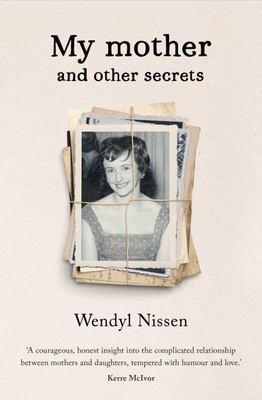 $37.00
NZD
Category: New Arrivals
Uncovering old family secrets leads Wendyl Nissen to a better understanding of her mother.
$45.00
NZD
Category: New Arrivals
Everyone is short of time these days. And most people still want to eat tasty, healthy food. This stylish cookbook contains 80 recipes that can be made with just 15 minutes of hands-on time to produce a healthy and delicious meal. Eleanor Ozich is well known for her blog tutorials and her previous succe ssful books and her fans are keen to see another cookbook in her effortlessly cool style. Eleanor says "The truth is, I love to cook and spend time in the kitchen; however, being a mum of three busy kids and juggling various jobs means that it's often not a priority. I'm sure I'm not alone! With little time for preparation, and even less for cleaning up the mess afterwards, the idea for this exciting, new cookbook became beautifully obvious." Including options for easy, healthy breakfasts, lunchbox fillers, no-mess tray bakes, one-pot wonders, throw-together salads and incredibly quick desserts, this book is perfect for the everyday person who enjoys eating well. You'll find plenty of savvy ways to create quick, weeknight meals, including recipes that are fancy enough for weekend entertaining. Combine with bright, colourful photography to accompany each dish, and you have a cookbook that's quite the feast for your eyes, too! ...Show more
$36.00
NZD
Category: New Arrivals | Reading Level: near fine
The delightful third novel in the bestselling Gabriel's Bay series. Big trouble is brewing, secrets are coming out, threatening reputations and even lives. Outsiders are in town with questionable motives. Power and privilege are casting a seductive but ominous spell. And the Love Bus is completely munte d. All your favourite characters are back- Mac, down-to-earth as ever; Sidney, eight months pregnant and feeling it; Dr Ghadavi, anxious to do right; Patricia, quietly determined; Bernard, who must face his nemesis; and young Barrett, unable to face the truth. It's crunch time for Gabriel's Bay, and nothing less than magic might be needed to protect this close-knit community and its future. ...Show more
$35.00
NZD
Category: New Arrivals | Series: A\Temperance Brennan Novel Ser.
A storm has hit South Carolina, dredging up crimes of the past. On the way to Isle of Palms, a barrier island off the South Carolina coast, forensic anthropologist Temperance Brennan receives a call from the Charleston coroner. During the storm, a medical waste container has washed up on the beach. Ins ide are two decomposed bodies wrapped in plastic sheeting and bound with electrical wire. Chillingly, Tempe recognizes many details as identical to those of an unsolved case she handled in Quebec fifteen years earlier. With a growing sense of foreboding, she flies to Montreal to gather evidence and convince her boss Pierre LaManch to reopen the cold case. She also seeks the advice - and comfort - of her longtime beau Andrew Ryan. Meanwhile, a storm of a different type gathers force in South Carolina. The citizens of Charleston are struck by a bacterium that, at its worst, can eat human flesh. Thousands panic and test themselves for a rare genetic mutation that may have rendered them vulnerable. Shockingly, Tempe eventually discovers that not only are the victims in both grisly murder cases related, but that the murders and the disease outbreak also have a common cause...     ...Show more
$37.00
NZD
Category: New Arrivals
A World War Two story of female friendship, longing and sacrifice through war and loss, bringing together the present and the past.   'Kirsty Manning has delivered yet again with this epic novel about women, love and heartbreak. With passion and sensitivity, Manning takes the reader on a journey that i s near-impossible to tear yourself away from. Without a doubt her finest work. A triumph!' Sally Hepworth, author of The Good SisterA forgotten manuscript threatens to unravel the past …Fresnes Prison, 1940: Margot Bisset, a former maid from the Riviera, finds herself in a prison cell with writer and French Resistance fighter, Josephine Murant. Together, they are transferred to a work camp in Germany, where the secrets they share will bind them for generations to come.Present-day Paris: Evie Black lives above her botanical bookshop with her teenage son, Hugo. Nursing a broken heart, Evie receives an unexpected letter; she clutches at an opportunity to spend a magical summer with Hugo on the Cote d'Azur.It's here, on the Riviera, that the past envelops them and Evie attempts to unravel the official story of a famous novelist. If she succeeds, a murder from a lifetime ago may be solved.Inspired by a true story of iconic French Resistance fighter, Agnes Humbert, whose secret journal shed light on a little-known aspect of World War II, The French Gift will captivate readers from beginning to unforgettable end.Praise for The Lost Jewels:'A tale of transferred wealth, power, and passion, Manning's novel will appeal to fans of Penny Vincenzi, Paula McLain, and Elizabeth Kostova.' Booklist'An historical fiction author whose stories travel and touch the world.' Heather Morris, author of The Tattooist of Auschwitz'Effortless flitting from one epoch to another underpin Kirsty Manning's cut-above historical fiction novels.' Australian Women's Weekly ...Show more
$37.00
NZD
Category: New Arrivals
From the author of the million-copy global bestseller Lilac Girls, comes a captivating new historical novel, set during the American Civil War. It's a sweeping story of women caught in a country on the brink of collapse, in a society grappling with nationalism and unthinkable racial cruelty. Georgeanne "Georgey" Woolsey isn't meant for the world of lavish parties and demure attitudes of women of her stature. So when the war ignites the nation, Georgey follows her passion for nursing during a time when doctors considered women a bother on the battlefront. In proving them wrong, she and her sister Eliza venture from New York to Washington, D.C. to Gettysburg and witness the unparalleled horrors of slavery as they become involved in the war effort. In the South, Jemma is enslaved on the Peeler Plantation in Maryland, where she lives with her mother and father. Her sister, Patience, is enslaved on the plantation next door and both live in fear of LeBaron, an abusive overseer who tracks their every move. When Jemma is sold by the cruel plantation mistress Anne-May at the same time the Union army comes through, she sees a chance to finally escape-but only by abandoning the family she loves. Anne-May is left behind to run Peeler Planation when her husband joins the Union Army and her cherished brother enlists with the Confederates. In charge of the household, she uses the opportunity to follow her own ambitions and is drawn into a secret Southern network of spies, finally exposing herself to the fate she deserves. ...Show more
$35.00
NZD
Category: New Arrivals
A thrilling story of the secret services, their enemies and the society they operate in, building with unrelenting suspense to a superb climax, The Crocodile Hunter is Gerald Seymour writing at the top of his powers. In the office at MI5 where he works, they call Jonas Merrick 'the eternal flame'. It i sn't a compliment. It's because he never goes out. He never goes undercover, never does surveillance, never goes with the teams that kick down the doors or seize the suspects off the street. He commutes into work and sits at his desk and then he goes home. But Jonas has qualities the hot-shots fail to notice: a steely concentration, a ruthless ability to focus and find the enemy hiding in plain sight. Hearing of a British Jihadi returning from Syria with murderous plans, Jonas sends out for a telling photograph: a crocodile, almost submerged, just its eyes above water as it waits for unsuspecting prey to drink at the riverbank. Coming ashore near Dover, Cameron Jilkes is a young man from a broken home and a failed education, trained in the harshest theatre of war, driven to rage by loss and pain. And this time, 'the eternal flame' must go out - to hunt the crocodile himself. ...Show more
$38.00
NZD
Category: New Arrivals | Series: Paul Samson Spy Thriller Ser.
Heart-stopping international spy thriller from 'An espionage master' (Charles Cumming) starring ex-MI6 officer Paul Samson for fans of Mick Herron, Lee Child and John le Carre Ex-MI6 officer Paul Samson prefers to work privately these days. He has been tasked with guarding a young woman, Joni Freemantle . He doesn't know who she is, or why she's important, but the money's good enough for him not to dig too deeply. Then a shooter disguised as a homeless man abducts her before his eyes and Samson wishes he'd asked more questions. When his former colleague, Robert Harland, is found dead, the news comes with the threat that Samson's own life - and that of others he holds dear - is on the line. Samson is sure he knows why there's a target on his back. What he doesn't know is who put it there - the Americans or the Russians? Two things quickly become clear. One, it was a big mistake to lose Freemantle. And two, Robert Harland, ever the consummate spy, has one final, crucial part to play from beyond the grave. ...Show more
$37.00
NZD
Category: New Arrivals
For as long as Rae can remember, it's been her and Mum, and their dog, Splinter; a small, deliberately unremarkable, family. They have their walks, their cooking routines, their home. Sometimes Mum disappears for a while to clear her head but Rae is okay with this, because Mum always comes back. So, whe n Rae wakes to Splinter's nose in her face, the back door open, and no Mum, she does as she's always done and carries on. She takes care of the house, goes to school, walks Splinter, and minds her own business--all the while pushing down the truth she isn't ready to face. That is, until her grumpy, lonely neighbor Lettie--with her own secrets and sadness--falls one night and needs Rae's help. As the two begin to rely on each other, Rae's anxiety intensifies as she wonders what will happen to her when her mother's absence is finally noticed and her fragile world bursts open. A Million Things transforms a gut-wrenching story of abandonment and what it's like to grow up in a house that doesn't feel safe into an astonishing portrait of resilience, mental health, and the families we make and how they make us in return.   ...Show more
$37.00
NZD
Category: New Arrivals
Klara and the Sun is the first novel by Kazuo Ishiguro since he was awarded the Nobel Prize in Literature 2017.From the bestselling and Booker Prize winning author of Never Let Me Go and The Remains of the Day, a stunning new novel - his first since winning the Nobel Prize in Literature - that asks, wha t does it mean to love?This is the story of Klara, an Artificial Friend with outstanding observational qualities, who, from her place in the store, watches carefully the behaviour of those who come in to browse, and of those who pass in the street outside. She remains hopeful a customer will soon choose her, but when the possibility emerges that her circumstances may change for ever, Klara is warned not to invest too much in the promises of humans.A thrilling feat of world-building, a novel of exquisite tenderness and impeccable restraint, Klara and the Sun is a magnificent achievement, and an international literary event. ...Show more
$37.00
NZD
Category: New Arrivals
Nic is a forty-five-year-old trivia buff, amateur nail artist and fairy godmother to the neighbourhood's stray cats. She's also the owner of a decade's worth of daily newspapers, enough clothes and shoes to fill Big W three times over and a pen collection which, if laid end-to-end, would probably circle her house twice. The person she's closest to in the world is her beloved niece Lena, who she meets for lunch every Sunday. One day Nic fails to show up. When Lena travels to her aunt's house to see if Nic's all right, she gets the shock of her life, and sets in train a series of events that will prove cataclysmic for them both. By the acclaimed author of An Isolated Incident, Love Objects is a clear-eyed, heart-wrenching and deeply compassionate novel about love and family, betrayal and forgiveness, and the things we do to fill our empty spaces. ...Show more