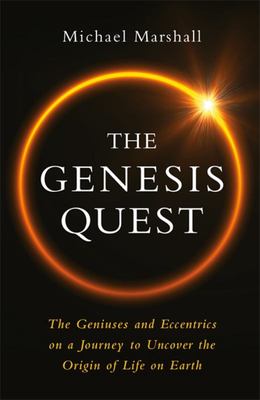 $38.00
NZD
Category: Non Fiction
How did life begin? Why are we here? These are some of the most profound questions we can ask. For almost a century, a small band of eccentric scientists has struggled to answer these questions and explain one of the greatest mysteries of all: how and why life began on Earth. There are many different p roposals, and each idea has attracted passionate believers who promote it with an almost religious fervor, as well as detractors who reject it with equal passion. But the quest to unravel life's genesis is not just a story of big ideas. It is also a compelling human story, rich in personalities, conflicts, and surprising twists and turns. Along the way the journey takes in some of the greatest discoveries in modern biology, from evolution and cells to DNA and life's family tree. It is also a search whose end may finally be in sight. In The Genesis Quest, Michael Marshall shows how the quest to understand life's beginning is also a journey to discover the true nature of life, and by extension our place in the universe. ...Show more
$23.00
NZD
Category: Non Fiction
Two brand new monologues in the Talking Heads series, published here for the first time.
$33.00
NZD
Category: Non Fiction
Amanda and Clay head to a remote corner of Long Island expecting a holiday: a quiet reprieve from life in New York City, quality time with their teenage son and daughter, and a taste of the good life in the luxurious home they've rented for the week. But a late-night knock on the door breaks the spell. Ruth and G. H. are an older couple - it's their house, and they've arrived in a panic. They bring the news that a sudden blackout has swept the city. But in this rural area - with the TV and internet now down, and no phone service - it's hard to know what to believe.Should Amanda and Clay trust this couple - and vice versa? What happened back in New York? Is the holiday home, isolated from civilisation, a truly safe place for their families? And are they safe from one another? Suspenseful and provocative, Rumaan Alam's third novel is keenly attuned to the complexities of parenthood, race, and class. Leave the World Behind explores how our closest bonds are reshaped - and unexpected new ones are forged - in moments of crisis.   ...Show more
$28.00
NZD
Category: Non Fiction
The perfect gift for all those big and little kids in your life who ask 'why...?'. The QI Elves are the clever clogs behind the hit panel show QI. Every Wednesday the Elves appear on The Zoe Ball Breakfast Show's 'Why Workshop' where they answer the ponderings and wonderings of Radio 2's most inquisiti ve listeners. Funny You Should Ask features the QI Elves' answers to questions on topics ranging from goosebumps to grapefruit, pizza to pirates and everything in-between. Generously sprinkled with extra facts from the Elves this is essential reading for the incurably curious. How much water would you need to put out the Sun? If spiders can walk on the ceiling why can't they get out of the bath? What's the point of snot? Why does my pizza taste so much better the next morning? Why do dads make such bad jokes? Why am I a capital letter and you're not? Why is there an Essex, a Wessex, a Sussex but no Nossex? Can I dig a tunnel to the other side of the Earth? Why aren't unicorns called unihorns? Do cats get goosebumps? When does a rock become an island? Why don't clouds freeze? Can I live forever?   ...Show more
$17.00
NZD
Category: Non Fiction
A wickedly witty field guide to bookstore customers from the Person Who Doesn't Know What They Want (But Thinks It Might Have a Blue Cover) to the harried Parents Secretly After Free Childcare. It does take all kinds. If you visit bookshops more often than the grocery store, you'll recognize the types. There's the Expert (with subspecies from the Bore to the Helpful Person), the Young Family (ranging from the Exhausted to the Aspirational), Occultists (from Conspiracy Theorist to Craft Woman). Then there's the Loiterer (including the Erotica Browser and the Self-Published Author), the Bearded Pensioner (including the Lyrca Clad), the The Not-So-Silent Traveller (the Whistler, Sniffer, Hummer, Farter, and Tutter), and the Family Historian (generally Americans who come to Shaun's shop in Wigtown, Scotland). Two bonus sections include Staff and, finally, Perfect Customer -- all from Shaun Bythell (author of Confessions of a Bookseller), the funniest sell-and-tell observer in the house of books. This is the perfect read for anyone who ever felt a bookstore was home. You've been spotted! Or have you?   ...Show more
$45.00
NZD
Category: Non Fiction
How the human history of conflict has transformed the world we live in - for good and evil.
$25.00
NZD
Category: Non Fiction
The remarkable memoir of Zuzana Ružicková, Holocaust survivor and world-famous harpsichordist. 'Extraordinary' Sunday Times'Compelling' Daily Telegraph Zuzana Ružicková grew up in 1930s Czechoslovakia dreaming of two things: Johann Sebastian Bach and the piano. But her peaceful, melodic childhood was to rn apart when, in 1939, the Nazis invaded. Uprooted from her home, transported from Auschwitz to Hamburg to Bergen-Belsen, bereaved, starved, and afflicted with crippling injuries to her musician's hands, the teenage Zuzana faced a series of devastating losses. Yet with every truck and train ride, a small slip of paper printed with her favourite piece of Bach's music became her talisman. Armed with this 'proof that beauty still existed', Zuzana's fierce bravery and passion ensured her survival of the greatest human atrocities of all time, and would continue to sustain her through the brutalities of post-war Communist rule. Harnessing her talent and dedication, and fortified by the love of her husband, the Czech composer Viktor Kalabis, Zuzana went on to become one of the twentieth century's most renowned musicians and the first harpsichordist to record the entirety of Bach's keyboard works. Zuzana's story, told here in her own words before her death in 2017, is a profound and powerful testimony of the horrors of the Holocaust, and a testament in itself to the importance of amplifying the voices of its survivors today. It is also a joyful celebration of art and resistance that defined the life of the 'first lady of the harpsichord'- a woman who spent her life being ceaselessly reborn through her music. ...Show more
$33.00
NZD
Category: Non Fiction
A story of unsung bravery at a defining moment in Britain's history'A fascinating, beautifully written story I had never heard before' Hugh GrantWe like to think we know the story of how Britain went to war with Germany in 1939, but there is one chapter that has never been told. In the early 1930s, a gr oup of young, queer British MPs visited Berlin on a series of trips that would change the course of the Second World War. As Hitler rose to power, they watched the Nazis arrest their gay and Jewish friends, send them to concentration camps and murder them. These men were some of the first to warn Britain about Hitler, repeatedly speaking out against their government's policy of appeasing him. Prime Minister Neville Chamberlain hated them. Branding them 'the glamour boys', he had them followed, harassed, spied upon and derided in the press. They suffered abuse, innuendo and threats of de-selection. At a time when even the suggestion of homosexuality could land you in prison, the bravery these men were forced to show in their personal lives gave them extraordinary courage in public. Adept at hiding their true nature, some became talented spies, while others witnessed the brutality of Hitler's camps first hand. Four of them died in action. And without them, this country would never have faced down the Nazis. Based on years of archival research, this is a story of unsung bravery at a defining moment in Britain's history.   ...Show more
$35.00
NZD
Category: Non Fiction
From the beloved author of Insomniac City, a poignant and profound tribute in stories and images to a city amidst a pandemic. A bookstore where readers shout their orders from the street. A neighborhood restaurant turned to-go place where one has a shared drink--on either end of a bar--with the owner. These scenes, among many others, became the new normal as soon as the world began to face the COVID-19 pandemic. In How We Live Now, author and photographer Bill Hayes offers an ode to our shared humanity--capturing in real time this strange new world we're now in (for who knows how long?) with his signature insight and grace. As he wanders the increasingly empty streets of Manhattan, Hayes meets fellow New Yorkers and discovers stories to tell, but he also shares the unexpected moments of gratitude he finds from within his apartment, where he lives alone and--like everyone else--is staying home, trying to keep busy and not bored as he adjusts to enforced solitude with reading, cooking, reconnecting with loved ones, reflecting on the past--and writing. Featuring Hayes's inimitable street photographs, How We Live Now chronicles an unimaginable moment in time, offering a long-lasting reminder that what will get us through this unprecedented, deadly crisis is each other.   ...Show more
$33.00
NZD
Category: Non Fiction
'An alternately funny and moving book about the most important art form on Planet Earth. Destined to become a classic (pun intended)' Jarvis Cocker Music critic and writer Paul Morley weaves together memoir and history in a spiralling tale that establishes classical music as the most rebellious genre of all. Paul Morley had stopped being surprised by modern pop music and found himself retreating into the sounds of artists he loved when, as an emerging music journalist in the 70s, he wrote for NME. But not wishing to give in to dreary nostalgia, endlessly circling back to the bands he wrote about in the past, he went searching for something new, rare and wondrous o and found it in classical music. A soaring polemic, a grumpy reflection on modern rock, and a fan's love note, A Sound Mind rejects the idea that classical music is establishment; old; a drag. Instead, the book reveals this genre to be the most exciting and varied in music. A Sound Mind is a multi-layered memoir of Morley's shifting musical tastes, but it is also a compelling history of classical music that reveals the genre's rich and often deviant past o and, hopefully, future. Like a conductor, Morley weaves together timelines and timeframes in an orchestral narrative that declares the transformative and resilient power of classical music from Bach to Shostakovich, Brahms to Birtwistle, Mozart to Cage, travelling from eighteenth century salons to the modern age of Spotify. ...Show more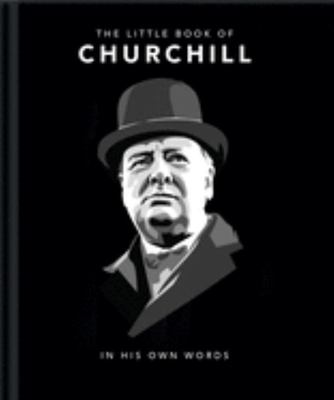 $15.00
NZD
Category: Non Fiction | Series: The\Little Book Of... Ser.
The iconic leader who 'mobilized the English language and sent it to battle'. Churchill's life and political career were certainly long and colourful: he travelled the world, fought in the Boer War, and oversaw the disastrous Gallipoli campaign during the First World War. But it was during the Second Wo rld War that this natural leader's qualities of grit, dogged determination and perseverance truly came to the fore as he led the nation to victory. Churchill's rallying speeches made him one of the world's greatest orators, while his acerbic wit was legendary. Readers will delight in finding the best of this illustrious Briton's words in one handy, pocket-sized volume. 'Never give in - never, never, never, never, in nothing great or small, large or petty, never give in except to convictions of honour and good sense.' Speech given at Harrow School for boys, London, October 1941. 'I am ready to meet my Maker. Whether my Maker is prepared for the great ordeal of meeting me is another matter.' Said on his 75th birthday, 30th November 1949. ...Show more
$15.00
NZD
Category: Non Fiction | Series: The\Little Book Of... Ser.
The ultimate pick-me-up to save you from the nine-to-five heartbreak blues. The Little Guide to Dolly Partonis your bible of devastating Dolly-isms. Yes, that's right, the most iconic and acclaimed female country singer in the history of music is so inventive and brilliant with her clever wisecracks an d sage advice that popular culture has crowned her with an -ism after her name. No one else is as worthy. For more than five decades, Dolly has been laying down her own brand of whip-smart wit and wisdom to the world, with many quotes and quips becoming as famous as her lyrical genius, for which she has won too many song writing awards and honours to mention. Stacked to the rafters with more than 150 bite-size bon-mots, one-liners and ripostes - as well profound and sincere observations - The Little Guide to Dolly Partonis your new favourite life companion. 'I never think of myself as a star because, as somebody once said, "A star is nothing but a big ball of gas" - and I don't want to be that.' Reflecting on stardom during an interview with Billboard, 2014. 'I'm proud of my hillbilly, white trash background. To me that keeps you humble; that keeps you good. And it doesn't matter how hard you try to outrun it - if that's who you are, that's who you are. It'll show up once in a while.' Discussing her background, during an interview with Southern Living, 2014. ...Show more