$33.00
NZD
Category: New Arrivals
'Dark and devious…beautifully written and plotted with a watchmaker's precision' STEPHEN KING 'A dark, twisty and richly atmospheric exploration of the power of imagination' RUTH WARE 'Atmospheric, tightly plotted and utterly gripping' SARAH PINBOROUGH The most dangerous stories are the ones we tell our selves… No. 36 Westeryk Road: an imposing flat-stone house on the outskirts of Edinburgh. A place of curving shadows and crumbling grandeur. But it's what lies under the house that is extraordinary – Mirrorland. A vivid make-believe world that twin sisters Cat and El created as children. A place of escape, but from what? Now in her thirties, Cat has turned her back on her past. But when she receives news that one sunny morning, El left harbour in her sailboat and never came back, she is forced to return to Westeryk Road; to re-enter a forgotten world of lies, betrayal and danger. Because El had a plan. She's left behind a treasure hunt that will unearth long-buried secrets. And to discover the truth, Cat must first confront the reality of her childhood – a childhood that wasn't nearly as idyllic as she remembers… 'The love child of Gillian Flynn and Stephen King. In Mirrorland nothing is as it appears and the kaleidoscope twists and turns will have you frantically turning the pages until you reach the gasp-out-loud ending' GREER HENDRICKS, bestselling co-author of The Wife Between Us READERS ARE FALLING IN LOVE WITH MIRRORLAND… 'Dark, dazzling, full of surprises and perfectly executed' Sheri K 'An adult fairy tale, a domestic noir and a heartbreaker, all in one' Rebecca W 'Creepy as hell and absolutely brilliant' Vikkie W 'Poignant and compelling… What an imagination to have crafted such a story' Carol C 'A beautifully written story that holds you enthralled from first page to last' Sarah M 'This is a book that will keep you awake all night' Maria P 'Hugely compelling…I found the entire book officially unputdownable!' Alexandra G   ...Show more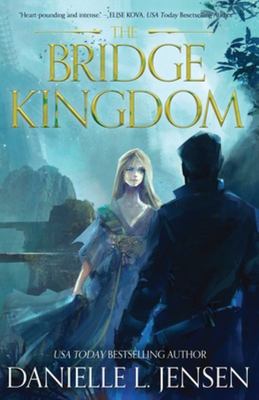 $25.00
NZD
Category: Fiction
"Heart-pounding romance and intense action wrapped in a spellbinding world. I was hooked from the first page!" - Elise Kova, USA Today bestselling author of A Deal with the Elf King. What if you fell in love with the one person you'd sworn to destroy? Lara has only one thought for her husband on their w edding day: I will bring your kingdom to its knees. A princess trained from childhood to be a lethal spy, Lara knows that the Bridge Kingdom represents both legendary evil - and legendary promise. The only route through a storm-ravaged world, the Bridge Kingdom controls all trade and travel between lands, allowing its ruler to enrich himself and deprive his enemies, including Lara's homeland. So when she is sent as a bride under the guise of fulfilling a treaty of peace, Lara is prepared to do whatever it takes to fracture the defenses of the impenetrable Bridge Kingdom. But as she infiltrates her new home - a lush paradise surrounded by tempest seas - and comes to know her new husband, Aren, Lara begins to question where the true evil resides. Around her, she sees a kingdom fighting for survival, and in Aren, a man fiercely protective of his people. As her mission drives her to deeper understanding of the fight to possess the bridge, Lara finds the simmering attraction between her and Aren impossible to ignore. Her goal nearly within reach, Lara will have to decide her own fate: Will she be the destroyer of a king or the savior of her people? Intense and action-packed, The Bridge Kingdom is a sexy and addictive fantasy perfect for fans of From Blood and Ash and A Court of Thorns and Roses. ...Show more
$25.00
NZD
Category: Fiction
A breathtaking, labyrinthine epic, Troubled Blood is the fifth Strike and Robin novel and the most gripping and satisfying yet. Private Detective Cormoran Strike is visiting his family in Cornwall when he is approached by a woman asking for help finding her mother, Margot Bamborough--who went missing in mysterious circumstances in 1974. Strike has never tackled a cold case before, let alone one forty years old. But despite the slim chance of success, he is intrigued and takes it on; adding to the long list of cases that he and his partner in the agency, Robin Ellacott, are currently working on. And Robin herself is also juggling a messy divorce and unwanted male attention, as well as battling her own feelings about Strike. As Strike and Robin investigate Margot's disappearance, they come up against a fiendishly complex case with leads that include tarot cards, a psychopathic serial killer and witnesses who cannot all be trusted. And they learn that even cases decades old can prove to be deadly . . . ...Show more
$38.00
NZD
Category: Fiction | Series: Charlie Parker Thriller Ser.
In Amsterdam, four people are butchered in a canal house, their remains arranged around the crucified form of their patriarch, De Jaager: fixer, go-between, and confidante of the assassin named Louis. The men responsible for the murders are Serbian war criminals. They believe they can escape retribution by retreating to their homeland.They are wrong. For Louis has come to Europe to hunt them down: five killers to be found and punished before they can vanish into the east. There is only one problem.The sixth. ...Show more
$35.00
NZD
Category: Fiction
From the mind of a psychologist comes a taut and chilling domestic thriller with a double twist that will leave you reeling. **One of Cosmopolitan's 13 of the best books to read this summer 2021** At first it's the lie that hurts.A voicemail from her husband tells Sara he's arrived at the holiday cabin . Then a call from his friend confirms he never did. She tries to carry on as normal, teasing out her clients' deepest fears, but as the hours stretch out, her own begin to surface. And when the police finally take an interest, they want to know why Sara deleted that voicemail.To get to the root of Sigurd's disappearance, Sara must question everything she knows about her relationship.Could the truth about what happened be inside her head?Translated from the Norwegian by Alison McCullough ...Show more
$35.00
NZD
Category: Fiction
Meet . . . wait, we don't actually know his name. What we do know about him is he's an author. He moves from airport to bookshop to chain hotel, on tour for his new bestseller HELL OF A BOOK. And, as people keep telling him, it's a hell of a book. Some of these people may or may not be real - because th e other thing to know about him is he has, let's say, an overactive imagination... For example, only he can see The Kid: a young black boy, who may or may not be the young black boy on the news recently. The one who was shot by the police. The one who everyone is on the streets protesting about. Or he might be any of the others. He may be all of them, or none of them.That may or may not be important. He may even be our author telling us this story.And all of this may or may not be happening.Every. Single. Day.THIS HELL OF A WORLD NEEDS THIS HELL OF A BOOK ...Show more
$38.00
NZD
Category: Fiction
Welcome to the neighbourhood. We do things differently here.Recently, Nora has started to feel that 'having it all' - a family, a soon-to-be new house, a successful career in law - comes with a price, one her husband doesn't seem to be paying quite so heavily. She loves Hayden, but why is it that, howev er hard men work, their wives always seem to work that much harder?Then her house-hunting takes them to an affluent suburban neighbourhood and Nora's eyes are opened to a new world. One where women can have it all. One where the men actually pull their weight.But a wrongful death case involving one of the local residents draws Nora further into this perfect world and she begins to realise that the secret of 'having it all' is far more complicated than she could ever have imagined. In fact, it may be worth killing for...Smart, sharp and timely, The Husbands imagines a world where the burden of the 'second shift' is equally shared - and what it might take to get there. If you love the novels of Liane Moriarty, Celeste Ng and Sally Hepworth you will devour The Husbands.Praise for WHISPER NETWORK: 'A delicious and timely thriller' New York Times Book Review'A murder mystery that happens in today's #MeToo era ... completely thrilling' REESE WITHERSPOON'There's a lot of buzz about this page-turner thriller, which is Big Little Lies with a splash of #MeToo' NW Magazine'Lies will be uncovered and secrets will be exposed' Woman's Day'This clever and resonant book centres around five women working in a Dallas legal firm and pulls no punches when describing the sexism and harassment they experience' WA Sunday Times'Chandler Baker brings to life the rage that simmers for many in her newest novel' Family Circle ...Show more
$35.00
NZD
Category: Fiction
What price do we pay for freedom?'Better than any debut novel has a right to be' Richard RussoFor readers of WASHINGTON BLACK, THE UNDERGROUND RAILROAD and DAYS WITHOUT END. In the dying days of the American Civil War, newly freed brothers Landry and Prentiss find themselves cast into the world without a penny to their names. Forced to hide out in the woods near their former Georgia plantation, they're soon discovered by the land's owner, George Walker, a man still reeling from the loss of his son in the war.When the brothers begin to live and work on George's farm, the tentative bonds of trust and union begin to blossom between the strangers. But this sanctuary survives on a knife's edge, and it isn't long before the inhabitants of the nearby town of Old Ox react with fury at the alliances being formed only a few miles away.Conjuring a world fraught by tragedy and violence yet threaded through with hope, THE SWEETNESS OF WATER is a debut novel unique in its power to move and enthral. ...Show more
Moth
by Melody Razak
$38.00
NZD
Category: Fiction
ONE OF THE OBSERVER'S 'TEN DEBUT NOVELISTS' OF 2021'Powerful and heartbreaking... The book's primary and unflinching focus is the female members of the household, all drawn with such skill and love that they remain with you long after the final sentence' Observer'Takes us right into the heart and heat o f Partition-era Delhi. A rare delight' Anna Hope'A powerful and moving family story: every character springs from the page' Clare ChambersDelhi, 1946.Ma and Bappu are liberal intellectuals teaching at the local university. Their fourteen year-old daughter - precocious, headstrong Alma - is soon to be married to a young man training to be a doctor: Alma is mostly interested in the wedding shoes and in spinning wild stories about evil spirits for her beloved younger sister Roop.Times are bad for girls in India. The long-awaited independence from British rule is heralding a new era of hope, but also of anger and distrust: political unrest is brewing, threatening to unravel the rich tapestry of Delhi - a city where different cultures, religions and traditions have co-existed for centuries.When Partition happens and the British Raj is fractured overnight, the wonderful family we have come to love is violently torn apart, and its members - Ma and Bappu, Alma and Roop - are forced to find new and increasingly desperate ways to survive.But the resilience of the human spirit is an extraordinary thing... ...Show more
$38.00
NZD
Category: Fiction
Philomena 'Phil' McCarthy is a promising young officer in the London Metropolitan police. But everything changes when she is called to the scene of a domestic assault. Unbeknownst to her, the abuser is a decorated detective and Phil's efforts to protect his girlfriend - Tempe Brown - from violence resu lt in Phil being unjustly struck from the force. In the fallout, Phil begins to teach Tempe self-defence and they strike up a tentative friendship. Tempe is thoughtful and sweet, and within a matter of weeks the two women are inseparable - talking, socialising and confiding their deepest secrets in one another. But something isn't right. Sinister things keep happening and, when a body is discovered, Phil realises that Tempe is hiding deadly secrets of her own. Secrets she is willing to kill for . . . This pulse-racing standalone psychological thriller from the internationally bestselling author of The Secrets She Keeps is Michael Robotham's finest yet, and confirms his reputation as the Mastermind of Crime. __________ Praise for Michael Robotham: 'He writes in a voice with a haunting sense of soul' Peter James 'Robotham is the real deal' David Baldacci 'One of crime's greatest practitioners . . . a ripper, suspenseful read' The Australian 'Robotham doesn't just make me scared for his characters, he makes my heart ache for them' Linwood Barclay 'Michael Robotham has done it again - another accomplished crime novel unlike anything he has ever written before' Sydney Morning Herald 'Excellent' Literary Review ...Show more
$35.00
NZD
Category: Fiction
A BLACK FATHER. A WHITE FATHER. TWO MURDERED SONS. A QUEST FOR VENGEANCE. 'A voice as stark and distinctive as Elmore Leonard's, and a humanity that touches the soul.' DAILY MAIL 'Every once in a while a writer comes along with an incredible voice...add S. A. Cosby to that list.' STEVE CAVANAGH 'S. A . Cosby is a welcome, refreshing new voice in crime literature.' DENNIS LEHANE Ike Randolph has been out of jail for 15 years, with not so much as a speeding ticket since. But a black man with cops at the door knows to be afraid. The last thing he expects to hear is that his son Isiah has been murdered, along with Isiah's white husband, Derek. Ike had never fully accepted his son but is devastated by his loss. Derek's father Buddy Lee was almost as ashamed of Derek for being gay as Derek was ashamed that his father was a criminal. Buddy Lee still has contacts in the underworld, though...and he wants to know who killed his boy. Ike and Buddy Lee, two ex-cons with little in common other than a criminal past and a love for their dead sons, band together in a desperate desire for retribution. In their quest to do better for their children in death than they did in life, they must confront their prejudices about their sons - and each other - as they rain down vengeance upon those who hurt them. A provocative revenge thriller and an achingly tender story of redemption, this novel is a ferocious portrait of grief; for those loved and lost, and for mistakes than can never truly be undone. Praise for S. A. Cosby: 'Sensationally good' LEE CHILD 'I loved BLACKTOP WASTELAND' STEPHEN KING 'Pitch-perfect' DENNIS LEHANE 'Stunning. Can't remember the last time I read such a powerful crime novel' MARK BILLINGHAM 'A superb character study wrapped up in a high-octane heist novel' Guardian 'Fantastic' Sunday Times 'Spectacular.' Daily Mail 'A delicious slice of country gothic wrapped in smart, hard, contemporary neo noir.' ADRIAN McKINTY ...Show more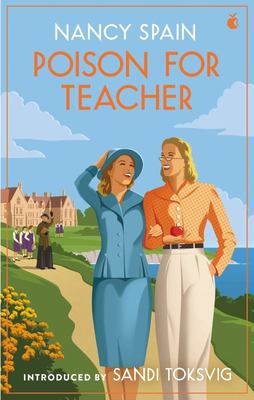 $28.00
NZD
Category: Fiction | Series: Virago Modern Classics Ser.
'Her detective novels are hilarious. They are high camp and less about detecting than delighting, with absurd farce and a wonderful turn of phrase . . . Nancy Spain was bold, she was brave, she was funny, she was feisty. I owe her a great deal' Sandi Toksvig A nasty attack of murder has broken out at Radcliff Hall, a Sussex girls' boarding school. Enter, in the unlikely guise of schoolteachers, two unorthodox detectives: revue-star Miriam Birdseye and the Russian ballerina, Natasha Nevkorina. 'An either intense or sombre approach to crime is to Miss Spain foreign: in her world an inspired craziness rules . . . Her wit, her zest, her outrageousness, and the colloquial stylishness of the writing are quite her own' Elizabeth Bowen ...Show more