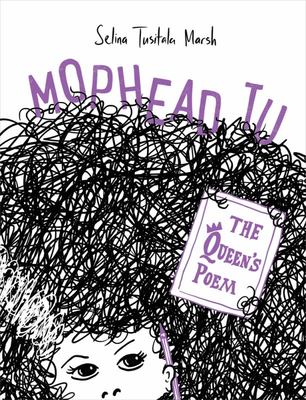 $25.00
NZD
Category: NZ Picture Books
In her bestselling Mophead, poet laureate and fast talking PI Selina Tusitala Marsh recounted her experience growing up Pasifika in Aotearoa and realising how her (and your) difference can make a difference. In Mophead Tu, Selina is crowned Commonwealth Poet and invited to perform for the Queen in Westm inster Abbey. But when someone at work calls her a 'sellout', Selina starts doubting herself. Can she stand with her people who struggled against the Queen . . . and serve the Queen? From the sinking islands in the south seas to the smoggy streets of London, Mophead Tu: The Queen's Poem is a hilariously thought-provoking take on colonial histories and one poet's journey to bridge the divide. Selina has to work out where she stands and how to be true to herself. She has to build a bridge from her sinking islands in the south seas to the smoggy streets of London. And she has to write a poem. None of it is easy. All of it is hilarious and moving. Featuring Megan and Harry, piglets and climate change, Mophead Tu: The Queen's Poem is colonialism 101 for kids. It will make you laugh and make you think. ...Show more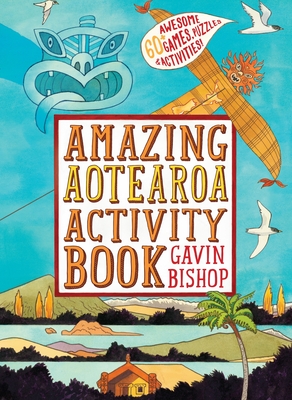 $25.00
NZD
Category: NZ Picture Books
5 -12 Years Old. You'll have lots of creative fun with this book full of puzzles, quizzes and activities that explore Aotearoa New Zealand and its people. Based on Gavin Bishop's bestselling Aotearoa- The New Zealand Story and Wildlife of Aotearoa, this activity book is a place for you to tell your own story in words and pictures.You'll- learn to introduce yourself in Maori- solve puzzles and crack codes- play games- invent a superhero- draw your future home- make maps- curate your heroes in a wall of fame- design a flag- create a menuand much more!Packed with quizzes, mazes, colouring pages and activities designed to stimulate bright minds, this is the ideal activity book for creative children aged 5-12. ...Show more
$36.00
NZD
Category: NZ Picture Books
Designed by New Zealand Artist, Tanya Wolfkamp, this set of 26 individual Kiwi ABC cards can be displayed to transform any room. Each A5 sized ABC flash card is printed on high quality 325 gsm card with die-cut rounded corners and packaged in practical shrink wrapping, perfect for posting as a gift to f riends in New Zealand or overseas.  They are perfect as a teaching aid in the home, classroom or kindergarten, or as home decor to instantly transform a child's room. ...Show more
$30.00
NZD
Category: NZ Picture Books
Inspiring stories of courage, resilience and determination in the face of disaster. New Zealanders have endured phenomenal natural and human disasters throughout the ages. This inspiring book documents some of these key moments in our history and, more importantly, how we responded and grew stronger; what changes/improvements were made as a result. Cyclones, tornadoes, earthquakes, landslides, floods, volcanic eruptions, fires, plane crashes, pandemics and other disasters are just some of the many themes covered in this comprehensive, vibrantly illustrated account. Includes: Outcomes, Safety Tips, and What to Do in an Emergency. ...Show more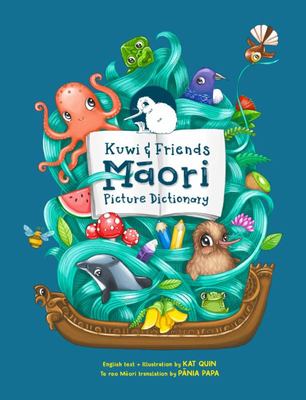 $35.00
NZD
Category: NZ Picture Books
Beginners Māori Language Picture Dictionary, for the Whole Family. From the #1 bestselling and award-winning author and illustrator of the Kuwi the Kiwi series, Kat Quin, comes a large scale, stunningly illustrated visual dictionary. Full of over 1000 basic words in te reo Māori and English, perfect fo r every New Zealander.  A fun, easy-to-use resource for those wanting to discover, learn and use everyday words in te reo Maori. The illustrations are designed to help with comprehension, particularly for younger learners. Visual cues can assist with retention of language, to recall spoken and written words.  68 fully illustrated pages, in a large format (265 x 366mm), in vibrant full colour, with over 1000 te reo Maori words, translated into English. Embedded with gorgeous Kuwi the kiwi (and friends) illustrations.  Designed for everyday use, in the whanau (family), kura (school) and for all New Zealanders. Ages 0-100+. A portion of each sale goes to charity Kiwis for Kiwi. ...Show more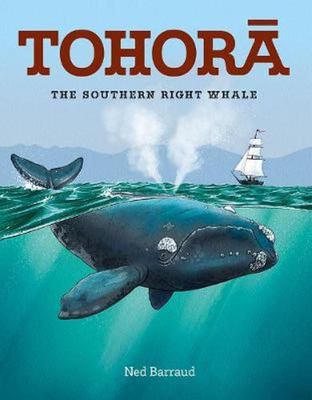 $20.00
NZD
Category: NZ Picture Books
Once, the mighty tohora, or southern right whale, was a common sight in winter off the coast of Aotearoa. But it proved to be an easy target for the 19th-century whalers, and was soon driven to the edge of extinction. In the 20th century, however, it became a protected species, and once commercial whali ng was virtually stopped, the southern right whale made a comeback. Ned Barraud recounts this moving story in this beautifully illustrated book, a heartening and optimistic tale for every New Zealand child. ...Show more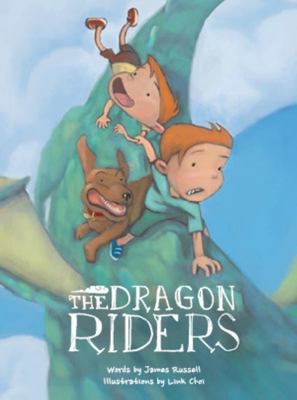 $20.00
NZD
Category: NZ Picture Books | Series: The Dragon Brothers
Thanks to an unexpected adventure, brothers Flynn and Paddy have recently acquired a pet dragon. In the third book of this series, their dragon, Elton John, takes them on an impromptu ride through the sky, right into the heart of a dragon gathering. Full color.

$20.00
NZD
Category: NZ Picture Books
A wonderful New Zealand adaption of the popular song The Twelve Days of Christmas. On the first day of Christmas, my true love gave to me - a pukeko in a ponga tree. Includes an audio CD of the song so you can sing along!
$20.00
NZD
Category: NZ Picture Books
One night on Nadia Lim's Central Otago farm a little chick hatches out of its egg ..."My, oh my, you're MARVELLOUS!" Mama whispers happily. "Welcome Marvellous Marvin, to our little family." This adorable picture book, inspired by a true story, includes family photos, egg-citing farm and food facts and a collectable Nadia Lim fluffy pancakes recipe. ...Show more
$40.00
NZD
Category: NZ Picture Books
A spectacular illustrated picture book exploring New Zealand's unique landscapes and its incredible wildlife by the award-winning author of Aotearoa: The New Zealand Story. Long before waka touched Aotearoa's shores, the land of the long white cloud was home to an array of creatures uniquely adapted to its environments and protected by its isolation. Encounter New Zealand's incredible wildlife in this spectacular visual exploration. Journey through ocean, sky and land to meet a marvellous range of organisms. Discover fascinating facts, and learn how we influence the survival of our living treasures. In this magnificent companion volume to Aotearoa: The New Zealand Story, Gavin Bishop weaves a compelling visual narrative of our land, our people and our wildlife - past, present and future. ...Show more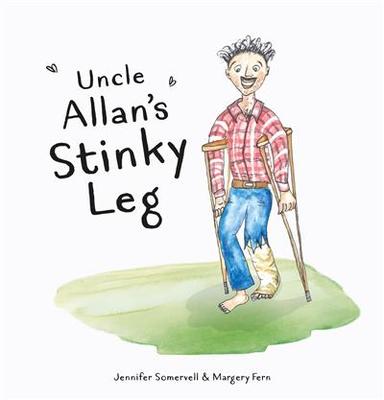 $22.00
NZD
Category: NZ Picture Books
Uncle Allan slumps on the couch and stares at his clean, white plaster cast. He is SO BORED! Then he has a bright idea … with unfortunate consequences! Find out interesting and fun facts about the real Uncle Allan, fractures, plaster casts, your amazing bones and how they heal.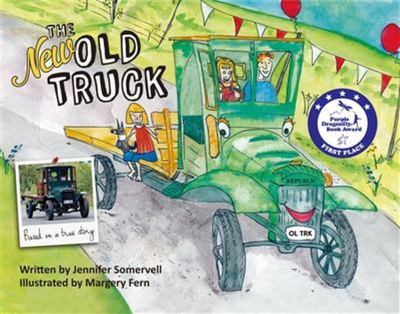 $22.00
NZD
Category: NZ Picture Books
Old Truck backfires (farts), graunches gears, won't start and often has to be towed. Retired, rejected and shut up in a shed, Old Truck feels old and useless. But to the children he is a much loved family member. Is this the end for their beloved Old Truck? This award winning book takes you into the col ourful interaction between Old Truck and the children and also describes the American origin of the real Old Truck, a 1921 Model 10 Republic. Educational graphics and old photos show his heritage in a great line of Republics made in Alma, Michigan, USA; his long journey to New Zealand, and his remarkable rescue and restoration on Silodale farm. Today the 'new' Old Truck spends his time out and about at vintage machinery rallies in New Zealand and has been featured in The Truck Journal, in newspapers and on TV. ...Show more